Khamir is a not-for-profit platform for the promotion of traditional handicrafts and allied cultural practices, the processes involved in their creation, and the preservation of culture, community and local environments.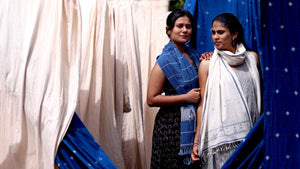 Wardrobe Essentials
Handcrafted stoles & dupattas
To keep you warm in winter & help add some color pop in spring
Shop Now
Our Value Chains
Indigenous Wool
The Indigenous Wool Project provides income to pastoralists, spinners, dyers and weavers while preserving the indigenous species of Kachchh.


Shop Now
Our value chains
Upcycled Plastic Weave
Khamir's Upcycled Plastic Project repurposes plastic waste materials and infuses it with traditional weaving skills and methods to create lasting craft products.
Shop now
OUR VALUE CHAINS
Desi Leather
The Meghwals of Rajasthan migrated to Kachchh, bringing an artful leather craft with them. Learn about the practice of cruelty-free Desi Leather.
Shop Now
Khamir is not just a business partner from me, it is my family. Their plastic upcycling initiative is a great source of inspiration for me and I am so grateful to them for the growth, approach and values of Théla. I am proud to be a part of their ethical community.

Diti Kotecha

Founder, Théla | Athens, Greece
Khamir is the center of Kachchhi craft, and in my heart, I have pictured it as a place where people come and meet, exchange thoughts and knowledge as well as their works… just like 'gaam no otlo' which in English translates to 'where people sit outside of house in villages'.

Fumie Kobayashi

Founder, Calico | Japan
I have been extremely  fortunate to work with Khamir for the rich artisanal traditions. I recommend each one of you to visit Khamir in and shop from their offline store while you are in Kutch and online while you are away.

Neha Gandhi

Matsya Crafts | Mumbai, India
I have now placed two large orders with Khamir. I have been selling bells, masks and stoles from my website. The service I have received from Khamir's team has been excellent. The feedback from my customers too has been consistently great, with a lot of people coming back to appreciate the quality of Khamir's products.

Sophie Hartman

Entrepreneur | United Kingdom
I happened to buy a few of Khamir's products from their new Reha collection of Chef's knives.

The experience of ordering these products from Khamir too was seamless and must say that I received my order within just a few days -- no complaints at all! All in all, I look forward to buying more and being a part of many craft stories!

Toshal Gandhi

Craft Enthusiast | Pune, India